Sian O'Callaghan: Pond search turns up women's clothes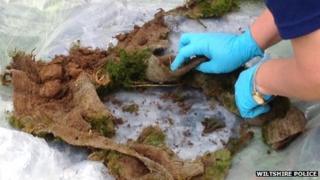 Women's clothing has been found near a pond where the boots of a murdered office worker were discovered.
Sian O'Callaghan, from Swindon, was killed by taxi driver Christopher Halliwell, who had picked her up outside a nightclub.
Police said about 60 pieces of material, thought to be clothing, were found buried about 100 yards (91m) from the pond in Ramsbury, Wiltshire.
Boots belonging to Miss O'Callaghan and a shotgun have been found in the pond.
A Wiltshire Police spokesman said the force was satisfied the clothing, including a chunky knit cardigan did not belong to Miss O'Callaghan.
He added detectives were "keeping an open mind" and the items would be sent for forensic testing.
Arrest error
Miss O'Callaghan died from a single stab wound to the head. She was not shot.
Halliwell pleaded guilty to murdering Miss O'Callaghan and was jailed for 25 years in October 2012.
Her body was found after an extensive police search at the Uffington White Horse in Oxfordshire.
Following the taxi driver's arrest, he also led detectives to the body of Becky Godden in Gloucestershire.
But Halliwell was not prosecuted over that death after a judge ruled detectives had ignored arrest guidelines.