Salisbury Cathedral spire peregrine falcon chicks hatch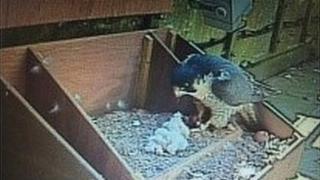 Peregrine falcon chicks have hatched at Salisbury Cathedral for the first time in more than 60 years.
The three chicks hatched in a nesting box installed on the cathedral's 123m (403ft) spire, the UK's tallest.
The last time the bird of prey nested at Salisbury Cathedral was in 1953, the cathedral said.
Gary Price, from the cathedral, said: "I was getting worried they wouldn't hatch but when I went up on Sunday it was amazing to see the three chicks."
A new nesting box was installed with the help of the RSPB at a height of 68m (225ft) up on the south side of the cathedral tower in February.
"The first box we put up was on the east side of the tower," said Mr Price.
"It was a shelf with gravel but they ignored it and laid three eggs in a makeshift nest on the south side instead.
"But the eggs rolled away and they couldn't incubate them."
'Ancestral home'
At the beginning of the year, the pair returned to the cathedral and have now successfully hatched three chicks in the new nesting box.
"One of the chicks is slightly smaller than the others, but they all seem to be being fed," said Mr Price.
Phil Sheldrake, from the RSPB, said he was delighted the new box had been accepted.
"Salisbury Cathedral really is the ancestral home of the 'urban' peregrine, with records dating from the mid 1800s," he said.
Peregrine falcon numbers rapidly declined during the 19th and 20th Centuries due to illegal shooting and use of certain pesticides on farms.
There are currently fewer than 1,400 breeding pairs of the protected bird in the UK.