Antique skull of a Wiltshire thief sells for £2,000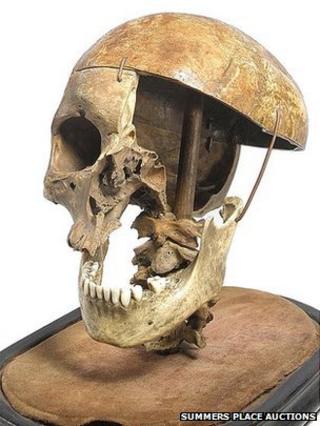 The skull of a Wiltshire thief, executed more than 200 years ago, has been sold at auction for £2,000.
John Parker, 36, was born in the parish of Langley near Chippenham and hanged at Gloucester jail in the early 1800s for stealing from a church in Bristol.
His skull, which is displayed in a glass dome, was partially cut away to serve as an anatomical specimen.
Summer Place Auctions in West Sussex said it was the first of its kind the firm had seen.
The antique piece is 12-inch (30cm) high and the same measurement wide, and inscribed with the words, "John Parker hanged for robbing Henbury Church and De Boudrie's school".
It was sold on Tuesday together with a photocopied newspaper cutting detailing the execution as follows:
Execution - On Saturday John Parker, aged 36, and Thomas Rodway, aged 30, were executed at the drop, on the top of the lodge at Glocester Gaol, pursuant to the sentence at the late Assized, for a burglary in the dwelling-house of Mrs Grey, at Clifton, near Bristol. Although obdurate at first, they at last became more sensible of their awful situation, and died with due penitence. Parker was born in the parish of Langley, near Chippenham.