Two World War 2 hangars near Swindon sell for more than £1m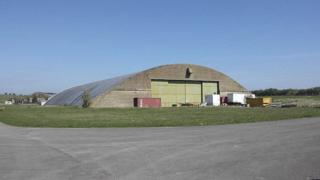 Two vast former Ministry of Defence aircraft hangars near Swindon have fetched more than £1m at auction.
The 43,000 sq ft World War 2 hangars, at Wroughton, were used by the MoD to store aircraft but most recently were used as warehouse storage.
Spanning 26 acres and advertised with "potential for a variety of uses", they sold for £490,000 above guide price.
Auctioneer Simon Bailey said: "Great result but given the quirky nature of the hangars it didn't surprise me."
Built in the 1940s as an aircraft store, RAF Wroughton's use expanded as the war progressed to servicing and maintaining aircraft.
Taken over by the Royal Navy in 1972, to store and repair helicopters, the military base finally closed in 1978.
Part of a bankrupt estate, the two concrete hangars were bought for £1,090,000 by the same bidder, according to auctioneers Eddisons.
"There was lots of interest, pre-auction," said Mr Bailey.
"But largely it came down to two people fighting it out to the bitter end in the room."
Although the bidder is unknown, most of the old RAF airfield is owned by the Science Museum Group which took over the site in 1979.
In 10 vast hangars, the museum stores aircraft and about 30,000 objects too large to be held in London.