South Marston Honda: Total of 99 compulsory job losses at car plant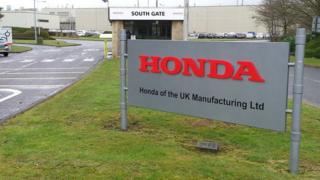 The carmaker Honda has confirmed 99 compulsory redundancies will be made at its Swindon plant.
In April it announced plans to cut 500 jobs, including 160 temporary posts at South Marston, due to falling sales.
The company had said up to 149 permanent staff could face compulsory redundancy after 191 people applied for voluntary redundancy.
Now, following talks between the Unite Union and management, the company has confirmed the figure has fallen to 99.
A spokesman for the company said the revised number of compulsory redundancies follows "ongoing meetings" with the union.
"A formal compulsory redundancy process commences this week," he said.
"The last contractual day for all employees leaving the company will be 23 May."
About 3,000 workers are based at the South Marston plant, building the Civic, Jazz and CR-V for the UK and European markets.
The Japanese carmaker, which opened in Swindon in 1992, made 38 compulsory and 554 voluntary redundancies last year.
This year as well as cutting shifts, Honda is also planning to move production to one line in an attempt to "improve production flexibility and efficiency".