Taser PC Lee Birch denies "revenge" attack on naked man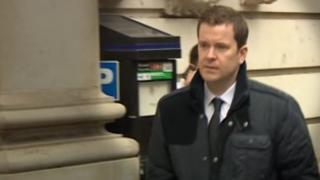 A Wiltshire police officer who used a Taser stun gun on a man who threw his underpants at him has denied acting out "revenge".
PC Lee Birch fired the weapon into Daniel Dove's chest during a strip search at Melksham Police station.
Mr Dove had been arrested for being drunk and disorderly, and assault, but the case was later dropped.
PC Birch denies assault and misconduct in public office. The case at Bristol Crown Court continues.
The jury heard that the officer used his Taser on Mr Dove during a strip search in December 2012.
'Extremely high' threat
Mr Dove had been arrested outside a nightclub in Trowbridge.
PC Birch told the jury that Mr Dove "appeared to be drunk" and he considered the threat posed by him was "extremely high".
Mr Dove allegedly punched PC Birch during his arrest and repeatedly kneed another police officer in the groin - claims he denies.
The court had previously heard that during the strip search in a police cell Mr Dove took off his boxer shorts and flicked them at the officer, striking PC Birch to the side of the face.
Defence barrister Stephen Mooney asked PC Birch: "This man has been violent, aggressive and abusive and you were one of those affected by it.
"Did you at any stage regard him as someone you wanted to attack out of revenge or anger or any form of retribution?"
"No, absolutely not," the officer replied.
'Reasonable force'
CCTV footage of the incident shows PC Birch ripping the boxer shorts from Mr Dove and throwing them against the wall of the police cell.
He fired his Taser weapon and then shouted "you have assaulted me for the second time".
Mr Dove was left "prostrate on the ground" while PC Birch removed the prongs of the Taser from his chest.
The prosecution allege the use of the Taser did not amount to "reasonable force", as PC Birch was accompanied by two officers, with others yards away in the custody suite.