Swindon water voles to be released in Hampshire river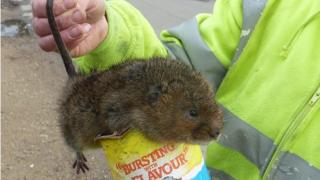 More than 60 endangered water voles captured on canals in Swindon are to be released into a river in Hampshire.
Keystone Ecology, under licence from Natural England, trapped voles on the Wiltshire and Berkshire Canal and at Studley ahead of bank rebuilding work.
The voles were taken to a breeder in Devon and will be released into Hampshire's River Meon this summer.
Sarah Jackson, from Keystone, said no suitable sites were available nearby, making live capture "the last option".
The water vole is one of Britain's fastest-declining mammals but according to Ms Jackson, there is a "healthy population" on the Wichelstowe stretch of canal in Swindon.
"There are lots of water voles in Wichelstowe and in the bad weather this winter, there were burrows popping up everywhere," she said.
"On a 560m (1,840ft) section of canal, we assumed a population of around 45 to 50 voles and caught around 40 animals - which is a decent number."
'Large scale reintroduction'
More than 100 traps baited with apple were set up along both banks of the Swindon canal at the beginning of April.
In weeks, 40 voles were captured, along with 20 more on an old section of canal running through Studley Grange.
"All the animals have been taken to purpose-built holding facilities in Devon," said Ms Jackson.
"It's not ideal to transport them quite so far away but they are being incorporated into a large-scale reintroduction project for the species."
The voles, along with hundreds of others from across the UK, are being reintroduced into the Meon Valley in Hampshire, where the mammal is considered "locally extinct".