Naked man Tasered for throwing boxer shorts at police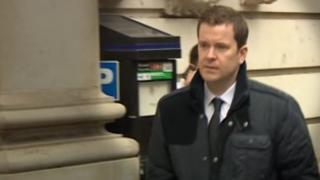 A police officer unlawfully Tasered a naked man who threw his underpants at him, a court has heard.
PC Lee Birch, of Wiltshire Police, fired the weapon into Daniel Dove's chest during a strip search.
Mr Dove had been arrested outside a nightclub in Trowbridge for being drunk and disorderly, and assault, but the case against him was later dropped.
PC Birch denies charges of assault and misconduct in a public office. The case continues at Bristol Crown Court.
The court was told Mr Dove had been ejected from Moo Moo nightclub by doormen who called the police.
'Reasonable force'
Mr Dove allegedly punched PC Birch during his arrest and repeatedly kneed PC David Read in the groin - claims he denies.
The officers then took Mr Dove to Melksham Police Station where he was booked into the custody suite and a strip search was authorised.
Police procedure is for a suspect to remove the upper half of their clothing for inspection, then replace it before the lower half is then removed.
The court heard Mr Dove took his underwear off and as PC Birch moved forward to take the boxer shorts Mr Dove flicked them at the pair of officers and they hit PC Birch on the side of his face.
CCTV footage showed PC Birch then ripping the boxer shorts from Mr Dove and throwing them against the wall of the police cell.
Robin Shellard, prosecuting, said: "PC Birch produces the Taser and without any warning at all, he fires the Taser into the chest of the naked Mr Dove.
"By the time I had seen it, I had no time to react or move," Mr Dove told the court.
"There was a lot of pain."
Mr Shellard said the use of the Taser did not amount to "reasonable force".
But colleagues of PC Birch told the jury Mr Dove had posed a threat to officers and been "aggressive" while in the custody suite.
The case at Bristol Crown Court continues.