Wiltshire road closed after badgers tunnel through surface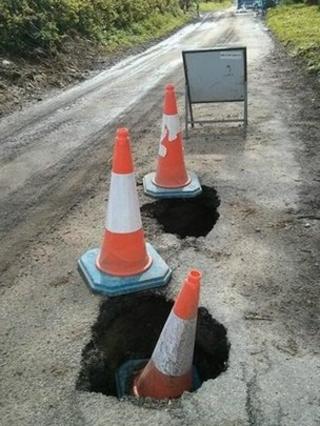 A licence has been granted to work on a badger sett after two deep holes appeared in a rural road in Wiltshire.
Mill Lane in Corsley, near Warminster, was shut when the authorities were alerted to the holes, which lead to a series of underground tunnels.
Natural England and Wiltshire Council are now working together to reopen the road "as soon as possible".
Several other entrances to the badger sett can be seen in the verge.
Mark Satinet, the County Mammal Recorder for Wiltshire, said badgers were "almost designed as diggers".
He said the work required now would depend on whether the series of tunnels was a main sett, in which case an artificial sett would be created nearby, or a more minor sett - "a holiday home" - which would not need a replacement.
Anita Bell, who lives nearby, said the badgers had been causing a problem underneath the road for "quite a few months".