Hundreds finish 125-mile Devizes to Westminster Canoe Race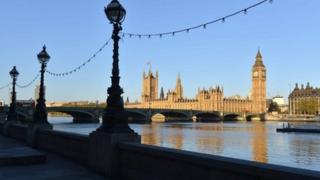 Hundreds of competitors have completed the annual Devizes to Westminster International Canoe Race.
The start of the four-day race was delayed on Good Friday after the body of Mark Stobbart, 44, was found in the Kennet and Avon canal.
On Sunday the senior doubles non-stop race was won by Ryan Pearce and Mike Southey from Fowey, Cornwall.
The 125-mile (201km) race is described as "a severe test of skill, physical and mental stamina and planning".
Some take on the course over four days, leaving on Good Friday and finishing on Easter Monday.
'Amazing time'
Senior doubles crews set out on Easter Saturday to complete the course non-stop through the night to finish on Easter Sunday.
Race spokesman Peter Hutchinson said most people in the four-day category should finish by Monday lunchtime.
"Ryan Pearce and Mike Southey from the Fowey River Canoe Club finished the non-stop race in 17 hours and 23 minutes," he said.
"That's an amazing time, and they're remarkably young - the boys are under 23 and Mike's 20. That's the youngest team we believe have ever won the senior doubles race.
"DW is a race that requires a lot of experience... for two guys so young... and to maintain that consistency over such a race is another indication this race is being taken more and more seriously every year."