Animals painted on derelict care home in Wiltshire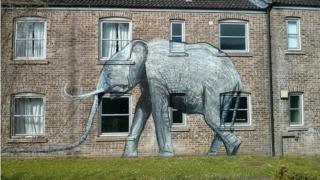 A 'zoo' of 20ft (6m) high graffiti animals has appeared on the walls of an abandoned nursing home in Wiltshire.
A bull elephant, giraffe and rhino are among the animals spray painted on to walls at Burnham House in Malmesbury.
The home, which closed down in 2008 and is due to be demolished this summer, was transformed by Luke Hollingworth, who paints under the moniker 'Syd'.
He said: "I started last week and didn't stop for three or four days but everyone seems to like it."
The works, populating the former nursing home, include a giant giraffe peering out of an upstairs window and a pigeon eyeing up observers from an apparent hole in the wall.
"Every graffiti artist needs a place to practise and by chance at the top of my road was an old people's home that no-one used and [which] is due to be knocked down in July," he said.
"So I thought - as a 30-something graffiti artist who doesn't want to be arrested - this was the opportunity for me to try a few things and not get into too much trouble."
Using 20ft (6m) ladders and more then £200 worth of paint, the graffiti artist spent just under a week painting the eight larger-than-life animals free hand.
"I started at 6am and worked through until it got dark for about four days," he said.
"The bull elephant is the biggest one I've done. He's 18ft high and the trunk is 40ft long and goes round the side of the building.
"But it's a very British thing - if you're there people think you should be there and as long as you smile a lot and aren't bullish they won't think it's suspicious."
But with the three acre site earmarked for flats for the elderly, Mr Hollingworth said he has a plan to rehome his menagerie when the bulldozers move in.
"I don't own this area - I've adopted it for a few months," he said.
"But I've got a plan, when the building gets knocked down, I want to release them from the zoo and let them run wild in Malmesbury."