Swindon mayor told to apologise for disability comment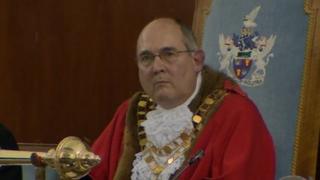 Swindon's mayor has been told to publicly apologise for derogatory remarks he made about disabled people.
Conservative Nick Martin was found guilty of breaching the members' code of conduct after Labour complained about the comments made last year.
He told BBC Wiltshire he apologised for using a word he "was brought up with" and that it was "not a modern word".
Labour councillors said they heard him say: "Are we still letting Mongols have sex with each other?"
'Got it wrong'
On Thursday, the standards committee ruled Mr Martin must make a public apology within the next seven days and that he must attend further training within the next 14 days.
Mr Martin said he had "apologised and apologised and apologised".
He said: "I wish I hadn't got it wrong. The committee want a new apology and I will keep apologising until they fall over.
"I'm sorry, I'm human, and I don't know what is wrong with my apologies."
He said he was considering resigning as mayor - not over this issue - but because he wanted to be able to campaign for his wife, who is standing in the local elections in May.
He was reported to the Standards Committee by Labour councillors Ray Ballman and Junab Ali after the remarks were made at a Swindon Borough Council meeting last year.
Mr Ali said it was "regrettable" that a "complaint had to be made to get the mayor to apologise".
He said: "I think Councillor Nick Martin should have put it straight, straight away, but it dragged on because he denied he said it.
"People look up to the mayor's office - he's an ambassador for Swindon."
Richard Hawkes, of disability charity Scope said: "This is about deep-seated ignorance towards disabled people and a lack of acceptance that disabled people have sex lives."