'Diva' magnolia tree at Westonbirt Arboretum finally named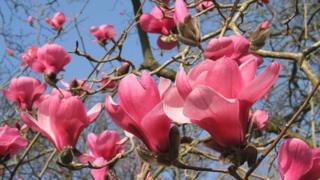 A champion magnolia tree has finally been officially named - more than 50 years after it was planted.
The 21-metre high Magnolia sprengeri is situated at the National Arboretum at Westonbirt in Gloucestershire.
It is the tallest specimen of its kind in the British Isles and has been named champion tree by the Tree Register of Britain and Ireland.
It has now officially been registered as Magnolia sprengeri Westonbirt Diva with The Magnolia Society.
The arboretum's Dan Crowley said: "This tree is a real favourite at the arboretum, so it is great to be able to include Westonbirt in its name.
"And it feels great to have the history, identity and name of this signature spring tree confirmed and on the record."
One of more than 140 magnolias at Westonbirt, the "Diva" is a direct descendant of a tree grown from seeds brought back from China in 1900. It was planted at Westonbirt in 1960.
Locals have called the tree, which is acclaimed for its spring display of abundant pink blooms, the "Diva" for years.