Water company apologises for sewage on Wiltshire streets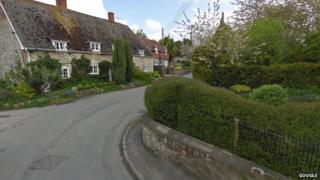 A water company has apologised to customers living in Wiltshire villages that still have sewage on their streets after recent flooding.
Allison Grainger, from Ogbourne St Andrew, said she had seen used toilet paper and faeces on roads.
It was an issue raised on Friday at a flood support forum in East Grafton, near Marlborough.
Thames Water is sending staff to Ogbourne St Andrew and Little Bedwyn to clean it up.
'Not nice'
Mrs Grainger, from Ogbourne St Andrew, said manhole covers had been lifted by the flood water.
"The more water was coming up, the more dirty toilet roll and faeces was coming up," she said.
"When you're walking from one side of the village to the other you are walking through these puddles and you don't know what you are walking through.
"It is just not nice."
Andrew Hagger, from Thames Water, admitted the situation was "unacceptable".
"As soon as we are aware of where sewage is on the surface and causing problems, we will get out as quickly as we can to clear up those problems," he said.
During the forum, Thames Water and Wessex Water, which both serve Wiltshire, told villagers that they are working on preventing the same thing happening again.