Erlestoke Prison older and disabled inmates 'feel victimised'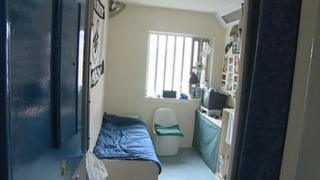 Older and disabled inmates have told inspectors they felt victimised at Erlestoke Prison in Wiltshire.
Prisons inspector Martin Lomas said although his team thought the jail, near Devizes, was "a safe place", this needed to be explored further.
The prison said focus groups are being set up to help address concerns.
Inspectors made a total of 57 recommendations about the overall running of the Category C jail after the surprise inspection.
'Well-led'
The report said the bullying incidents were related to debt problems over drugs and tobacco.
The prison added that it classified any sort of anti-social behaviour, ranging from playing music too loudly to making threats, as bullying.
The prison houses 488 men and specialises in rehabilitating long-term prisoners and preparing them for release.
Overall, inspectors described the facility as "well-led and effective" and a "safe, respectful and purposeful place that is working toward prisoner need".
Other areas that needed further work included improving teaching standards and educational achievements.
Inspectors found inmates needing help with English and maths were not having their needs met and classes were often cancelled.
Governor Andy Rogers said he was disappointed at some aspects of the report and considered 57 recommendations "quite high", but said 60% of these had already been implemented.
"To give this report some context, this is one of the best reports on any prison in England and Wales that's come out in the past 12 months," he said.