Wiltshire farmer gets apology from Army for stray shell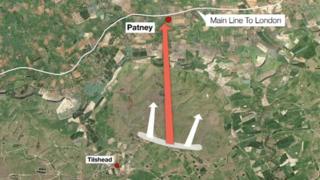 The Army has apologised after an artillery shell landed in a farmer's field in Wiltshire.
A spokesman said it had launched a "thorough investigation" after the round landed on Andrew Snook's land.
The shell left a 6ft (1.8m) wide crater when it hit the ground 980 ft (300m) from a railway line at Patney, near Devizes.
Nobody was hurt and live firing will remain suspended until the investigation is completed.
According to the spokesman, the officer "responsible for the safe use of the range" has now apologised to the land owner.
He added that local residents would be kept informed and "if deemed appropriate, additional safety measures" would be put in place.
"The safety of both our own personnel and of the general public is our priority in all training serials."
Salisbury Plain is the UK military's largest training area, with live firing taking place on average 340 days a year.