MoD 'should apologise' for Salisbury Plain stray shell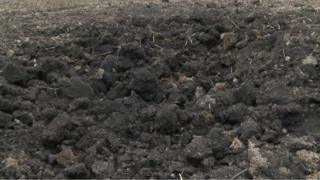 A retired senior officer has said the Army should apologise after a live shell went five miles astray during gunnery training on Salisbury Plain.
Major General Patrick Cordingley, who lives in Wiltshire, said he was surprised by what had happened.
The shell exploded in a farmer's field 980 ft (300m) from a railway line at Patney near Devizes.
No-one was hurt and all live firing has been suspended while the incident is investigated.
'Extremely frightening'
Maj Gen Cordingley, who commanded the 7th Armoured Brigade - the Desert Rats - during the first Gulf War, said: "I would expect an apology.
"I think the first thing they need to do is to inform the public as to why it happened... and then say 'I am very sorry, it is extremely frightening, and I can assure you that it is such a rare occurrence and it is not going to happen again'."
He said that this kind of incident was "very infrequent" and that people should not be worried.
Largest training area
The round left a 6ft (1.8m) wide crater when it landed on farmer Andrew Snook's land.
Mr Snook said he had received an apology, and said: ''It's all I wanted really at the end of the day.''
A spokeswoman for Network Rail said it not been alerted "before or after" the incident and had not shut the line.
Salisbury Plain is the UK's largest training area, with live firing taking place an average of 340 days a year.
The Ministry of Defence said that an artillery shell had landed outside the range boundary, and the incident was being investigated.