MoD home plan will 'obscure' sunrise at Stonehenge, says expert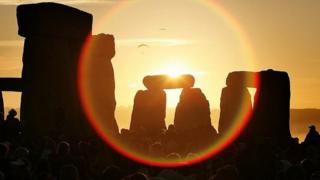 Concerns have been raised that plans to expand an army base will "obscure" the summer solstice at Stonehenge.
The Ministry of Defence (MoD) wants to build hundreds of homes near Wiltshire military bases including Larkhill for troops being withdrawn from Germany.
But one expert said that if the MoD built at Larkhill, the "chance of restoring a clear horizon" at Stonehenge would be gone forever.
The MoD said it was "aware of the issues" and was organising a meeting.
Each year, thousands of people gather at the ancient monument to watch the sun rise over the horizon on the longest and shortest days in the northern hemisphere.
'Sun gap'
But according to Simon Banton, an archeo-astronomer who studies the astronomical beliefs and practices of ancient civilizations, the MoD's housing plan for Larkhill would "encroach on the sunrise line" at Stonehenge already partly obscured by trees.
"If we build on top of Larkhill the chance of restoring the original sight line and the view of the solstice as seen with a clear horizon is gone forever," he said.
And David Dawson, from the Wiltshire Museum, said it was important that the "sun gap" - in which the sun rises on the horizon - was "still visible into the future".
"Today, if you look towards the horizon there are some trees but even in 1910 when there were some air hangars built they left a gap between them so that you could still see the sunrise," he said.
'Welcomes all input'
English Heritage, which manages the monument, said it was too early to comment.
But the MoD said it welcomed "all input to the consultation".
"We are aware of the issues being raised concerning the Larkhill area and are in the process of organising a meeting with all statutory consultees in order to discuss them."
The public consultation into the Mod's £800m project is due to end on 1 April.