Unique Gloucestershire garden 'at risk' from flooding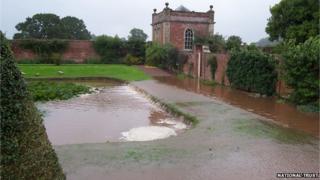 A unique water garden that has been repeatedly flooded could be "at risk" unless a solution is found.
Westbury Court Garden, near Westbury-on-Severn, Gloucestershire, is the only Dutch water garden in Britain, but has suffered flood damage.
The National Trust is looking at a range of options to try and divert water away from the property.
It has also bought adjoining farmland and is working with a team of experts to create a mini flood plain.
Mike Beeston, general manager, said Westbury Court was an "important and rare garden" and it was a challenge "to find a suitable way to protect it".
Created in the late 1600s the garden is designed around a series of canals and water features bordered by formal hedging.
Westbury Court is the last surviving example of a 17th Century 'Dutch' garden in the UK, but it is "at very high risk unless something is done," said Mr Beeston.
"The floods have washed away paths, bridges in the garden have had to be lashed down and the water has also damaged plants and formal hedges," he said.