Jesus statue stolen from Wingfield war memorial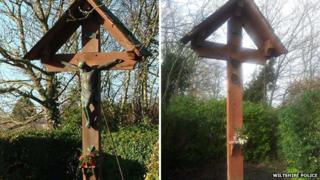 Thieves have stolen a bronze statue of Jesus Christ from a war memorial near Trowbridge.
The metre-high (40 inch) statue was part of the World War One memorial in Wingfield.
The statue, cast about 100 years ago, is believed to be worth around £10,000 and was erected in the village in 1917. Three bronze bolts were also taken.
PC Richard Gardner, from Wiltshire Police, said: "This is the theft of something symbolic to a community."
The statue is believed to have been stolen overnight on Friday 28 February from the Wingfield Crossroads, where the A366 crosses the B3109.