Downton Cross Roads Post Office raid: Woman threatened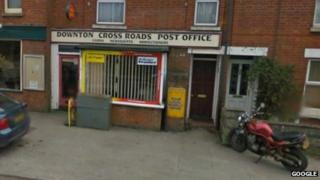 A woman was threatened with a weapon, thought to have been concealed in a carrier bag, during a robbery at a Post Office in south Wiltshire.
The man entered the store in The Headlands, Downton, on Saturday before forcing her to hand over cash.
A Wiltshire Police spokeswoman said the robbery took place at 08:14 GMT and detectives are appealing for witnesses.
The offender is described as white, 5ft 10in tall and was wearing a blue hooded top with a scarf across his face
"Anyone who saw the man beforehand or a blue BMW saloon car is asked to contact police or Crimestoppers," the force spokesman added.