Flood hit Tollard Royal residents left 'isolated'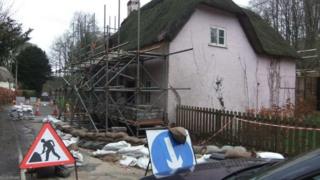 Residents in a flood hit village in Wiltshire say they have been left "isolated" because the main road has been closed for more than six weeks.
Tollard Royal, near Salisbury, has been split in two since 27 December when the B3081 - the village's only road - was closed due to flooding.
The water has now almost disappeared but a listed cottage has been left in danger of collapse.
Wiltshire Council said the road could only open once the structure was safe.
"We have a responsibility for the safety of road users and, we have been told, as the building is unsafe the road will remain closed for the foreseeable future.
"The cottage owners have been speaking to structural engineers who are trying to sort out what needs to be done.
"The work is not the council's responsibility but we are checking with the structural engineers daily," he added.
Heavy rainfall at the end of December overwhelmed a pond at the bottom of the village, resulting in almost 2ft (60cm) of water surrounding, and entering, properties.
The water closed the road and divided the village in two.
Wade Edwards, who lives in the village, said: "Everyone feels really isolated. My house was flooded and we had to move out for three weeks.
"A lot of people have had to leave and a lot of people are still uncertain because we could get flooded again.
"The cottage has been condemned and they are also now trying to fix that up."
The roadside structure is the oldest house in the village and made from lime and cob stone which has soaked up so much water there are fears it could collapse.
Alexander Boon, owner of The King John Inn, in Tollard Royal, said Wiltshire Highways have been trying to get the road re-opened but "seem to be struggling".
"The house has now been condemned. Scaffolding has gone up and we've been told the road will re-open this week, but they've been saying that for the last few weeks," he said.
Declan Healey, of nearby Rushmore Golf Club, added: "It's just been a nightmare. With the road being closed in the local area and just the amount of rainfall we have had.
"Not only the wind and the rain, we woke up when the power went as well, so not only are people not able to play golf, we can't prepare food, we can't cook, we can't heat the club house.
"The majority of business in this immediate area is very much rural and weather dependant and it is not just us struggling it is the whole area."