Swindon Town former manager Sam Allen grave appeal launched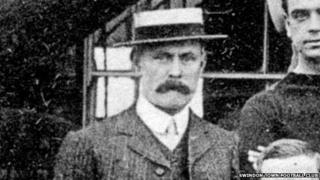 An appeal has been launched to raise money for the restoration of the grave of Swindon Town FC's first manager.
Sam Allen joined the club's committee in 1895, was manager from 1902 to 1933, and was club secretary until his death in 1946.
His grave at Radnor Street Cemetery has become derelict and overgrown.
Campaigners want to restore the monument in time for the 100th anniversary of the club winning the Southern League in 1914.
Swindon Town historian Dick Mattick said: "In the last 15 years the grave has really deteriorated - it's cracked and it's discoloured.
"It would be a fitting resting place for a great servant of Swindon Town."
Mr Allen is in the top ten of the longest-serving managers in the history of English football.
An appeal launched last month has so far raised about £900 towards a target of £2,500.