Six Longleat Safari Park lions destroyed due to violence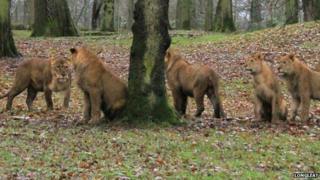 Six lions at Longleat Safari Park in Wiltshire have been destroyed by staff after a large increase in population.
A spokesman said a spate of pregnancies had led to a 40% increase in lion numbers causing "excessive violent behaviour".
The safari park confirmed the move on its Facebook page after the Mail on Sunday reported staff were "outraged".
Longleat said it took "the utmost care in trying to protect the welfare and safety of all our animals".
It said one lion was destroyed after being injured in an attack while five more were destroyed because their health was believed to be at risk.
Five lions from the affected enclosure are to be moved to other premises.
People have left comments on Longleat's Facebook page criticising the park for destroying the animals.
Sara Burton said: "If Longleat is incapable of 'managing' its animal populations through sensible birth control then it shouldn't be allowed to continue as a zoo."
Joanne Ross-Crawley said: "I would not support any organisation that kills healthy animals. No matter what their excuse is."
However, Nicola Williams said: "They have had large amounts of lions since the 60s and I'm guessing they know their stuff."
Longleat responded to some of the comments to stress it only destroyed animals as a last resort, and said further information would be released "in due course".
The safari park reopened after a winter break on Saturday.