Warminster 150-year-old pine tree felled by wind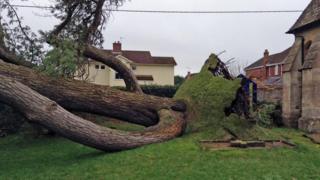 A huge pine tree, believed to be 150 years old, has come down in high winds on to about 100 graves in Wiltshire.
The tree has stood by the lychgate in St John's churchyard, in Warminster, since the church was built 149 years ago.
People in the town said they are "devastated" to see the tree uprooted.
The Reverend Denis Brett said the tree was one of three pines in the churchyard known as "the trinity", and described its uprooting as "very sad".
Sheelagh Wurr, a member of the church, said: "Fortunately, very little damage was done to the graves and nobody was in the vicinity at the time."