Closing Salisbury police HQ 'will affect arrests'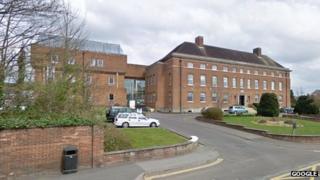 Police officers will think twice about making arrests in Salisbury when the city's station is closed, the Police Federation chairman has warned.
Mike White said the closure of Wilton Road - and relocation of emergency response officers eight miles (13km) away in Amesbury - would cause issues.
Suspects will also be taken 30 miles (48km) away to Melksham, he added.
Wiltshire Police said it was "absolutely committed" to providing the same level of service.
The force delayed plans to leave its headquarters last year because of concerns its service could be damaged.
'Driven by cuts'
A police spokesperson said the location of a new custody building, for when it relocates in June, was a "major decision" and would be pivotal to the way the force operates in the future.
However, Mr White is concerned about the relocation of officers and an interim plan to transport prisoners to Melksham for up to two years while new facilities are built in Salisbury.
"Having worked in places that are away from custody centres, officers will think again about whether to make arrests. That can cause some issues," he said.
"This is driven by the cuts to the policing budget and the need to save money.
"The chief constable is trying to protect as many frontline posts as possible, which we fully support, but we've made these changes without really thinking about how this will affect policing in Salisbury."
Wiltshire Police said the detail was still being worked through but every effort would be made to avoid calling on frontline officers to make the journey between Salisbury and Melksham.
The new South Wiltshire University Technical College (UTC) is waiting to take over the Wilton Road site, with council planners meeting on Thursday to discuss the building's change of use.
It had hoped to open its doors to students in September 2014 but this has now been delayed until September 2015.