Wiltshire Council boss defends 22% allowance rise U-turn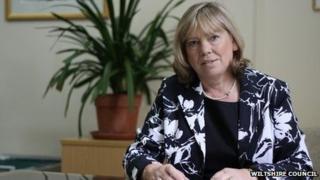 A council leader who changed her mind over accepting a 22% increase in her allowances said she did it to "protect the council's reputation".
On Tuesday, Wiltshire Council leader Jane Scott's apparent U-turn was confirmed after a newspaper put in a Freedom of Information request.
She had defended the rise to £52,227 a year, claiming the wrong level was set when the unitary authority was formed.
She said she then made the "personal decision" to refuse it in December.
Communities Secretary Eric Pickles, who visited Wiltshire in January, had also advised Mrs Scott not to "take the money" and said people in public life "should set an example".
'Set an example'
In January, Mrs Scott had argued she was entitled to receive the rise from her current allowance of £42,830 after the council voted to increase allowances in November.
She told BBC Wiltshire on 17 January "at least I am honest" and she was "taking it" because she had "voted for it".
In response to the FOI published in the Gazette and Herald on Tuesday, Mrs Scott said: "I actually changed my mind over Christmas and the New Year but, obviously, I needed to consider it and speak to my colleagues."
She said she had told Eric Pickles of her decision to refuse the rise when he visited the county in January.
Mrs Scott said: "He [Eric Pickles] knew, I had said to him, that I wasn't going to take it because it was affecting the reputation of the council.
"The council was not getting the media attention it needed for very important and very positive stories because of this negative story about my allowances."
She said she had expected her decision to be made public at the full council meeting on 4 February but it had "come out" because of the Freedom of Information request.
She said: "I did not want to make a political point and certainly not after a member of government came to Wiltshire."
She said she would still vote "not to rescind allowances" and said she believed her fellow councillors all deserved the increases.
She added the independent panel had apologised for "not getting the allowances right in 2009".