Wiltshire train route's improvement work 'in chaos'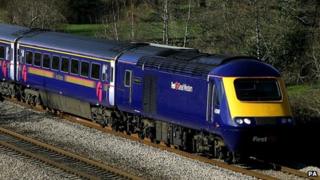 Work on part of the £1bn project to electrify the Great Western railway line through Wiltshire is in "chaos", a local councillor has claimed.
Network Rail is rebuilding bridges along the route to provide space for overhead lines as part of the project.
Wiltshire Council said this had caused disruption because proper planning and surveys were not carried out.
Network Rail insisted it had put the correct procedures in place and liaised with councils on the project.
Wiltshire Council deputy leader John Thomson said the authority was "very disappointed" in how the work had been planned.
He said entire communities had been "blocked off from using the roads", causing a "real problem".
'Inaccurate' claims
Mr Thomson described the project as "chaos", citing a number of issues since work started which were not part of "normal construction planning".
He claimed Network Rail failed to survey the bridges to find out what wildlife was living in them, and when work started the company found that buttresses were collapsing and in need of being rebuilt.
A Network Rail spokesman said the chaos claim was "inaccurate" and said it had carried out "comprehensive surveys" on all the structures.
He added that delivering the structures on time was a "considerable challenge".
The company apologised for the disruption and said work to raise the bridges should be completed by April.