Wiltshire Council boss rejects 22% rise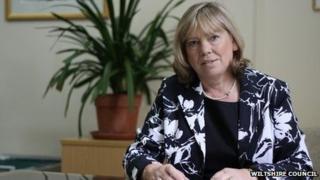 The leader of Wiltshire Council has decided not to accept a 22% rise in her allowances, it has been revealed.
Two weeks ago Jane Scott defended the increase to £52,227 a year claiming it had been set at the "wrong" level when Wiltshire became a unitary authority.
The Gazette and Herald confirmed Mrs Scott has now refused the increase.
Government minister Eric Pickles had also advised her not to "take the money" which would have seen her allowance rise from £37,335.
Mrs Scott had argued she was entitled to receive the rise from her current allowance of £37,335 - after the council voted to increase them in November.
Councillors had voted in favour of the rise for the council leader, the deputy leader, cabinet members, portfolio holders, chairmen of committees and area boards.
She told BBC Wiltshire on 17 January "at least I am honest" and she was "taking it" because she had "voted for it".
Mrs Scott would have been entitled to £12,289 for being a councillor, £30,772 for being council leader and £9,216 for being chairman of the health and wellbeing board.
The increase would have been backdated to last year's May elections.
A Freedom of Information request from the newspaper also confirmed councillor Stewart Dobson, from Marlborough, had refused his increase and councillor Laura Mayes, from Devizes, had refused half of her increase in allowance.