Langley Fitzurse primary school 'birthday bell' saved by campaign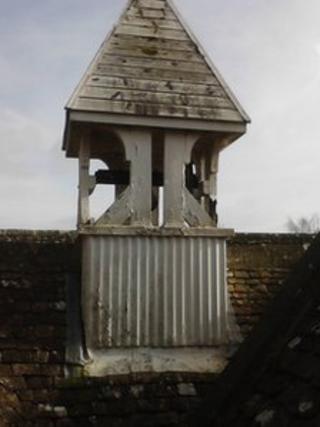 A 157-year-old Wiltshire school bell tower has been saved from demolition by a fund-raising campaign.
The bell, at Langley Fitzurse primary in Kington Langley near Chippenham, was traditionally rung by pupils to mark their birthdays.
The structure was to be roofed over by the local authority after falling into disrepair.
But following an appeal, about £5,000 has been raised to pay for the tower to be repaired.
Head teacher Becky Harris said it meant the bell would "ring in the summer".
"We are all very excited, and incredibly grateful for all our donations.
"The bell is a valuable part of the school and village's heritage," she said.
The bell dates back to when the school was built in 1856.
Traditionally pupils were allowed to ring the bell on their birthdays.
Mrs Harris said the fund-raising campaign saw donations come from elderly people who remembered the school bell from their childhood.
Work to repair the tower is expected to take place in April.