Stourhead Pantheon leaking roof repairs start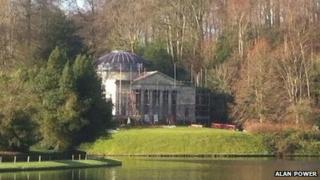 Urgent repairs to an 18th century temple at one of the most visited National Trust properties in the country have started.
The 250-year-old pantheon at Stourhead in Wiltshire has a leaking portico roof and cracked steps which the trust said needed fixing before they collapse.
Head gardener Alan Power said he hoped it would "last another 250 years".
A grant of £260,000 from the Sita Trust was donated for the work which is expected to take three to four months.
Mr Power said: "If we hadn't intervened now it would have continued to deteriorate.
"An archaeologist is also going to be on site to look for archaeologically important elements and aspects of work carried out in the 18th century and recording every step we take.
"It's the only chance we get to look behind the plasterwork and see what craftsmen did 250 years ago and hopefully learn from them."
Modelled on the pantheon in Rome, by architect Henry Flitcroft, it was carefully placed in the landscape along with 20 other buildings and structures.