Wiltshire floods to cost millions in road repairs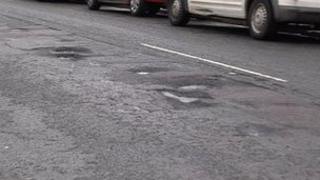 Repairs to roads in Wiltshire damaged by recent flooding will cost £2m, according to the local authority.
Wiltshire Council is investing an extra £250,000, in addition to its £52m increase in road spending announced in November, to repair potholes.
The council's highways maintenance contractors are being deployed to carry out repairs before predicted colder weather worsens the problem.
The authority's John Thomson said the plan was "sensible in the short-term".
But he said the best way to reduce potholes and other damage to roads was through long-term investment.
Wiltshire Council dealt with more than 1,000 flooding-related incidents across the county in the past two weeks.