MP James Gray criticises Royal Wootton Bassett homes and Tesco plan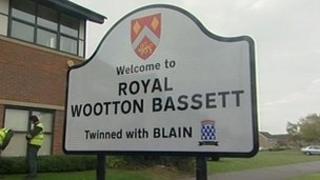 A Conservative MP has criticised plans for a Tesco store and 300 homes on the outskirts of Royal Wootton Bassett.
North Wiltshire MP James Gray said the plan to build on land at Marsh Farm would "wreck the town" and "wreck the High Street".
Mr Gray said he had "fought for years" against such developments which end in the town being linked to Swindon.
In a BBC interview, Tesco said it was in the company's interests to see a thriving High Street.
The store would "only account for 10% of the scheme being put forward for Marsh Farm", said Tesco spokeswoman Sophie Akokhia.
"What also is being brought forward is talk of 300 new homes, a later living or retirement accommodation, community facilities and lots of open space," she added.
But Mr Gray said he believed it was "an unwelcome invasion of the countryside".
The development, he said, was "totally and utterly inappropriate for the character of Royal Wootton Bassett.
"It's also part of linking Royal Wootton Bassett into Swindon and we've fought for years against the two places coalescing."