Eric Pickles urges Wiltshire Council boss 'reject 22% rise'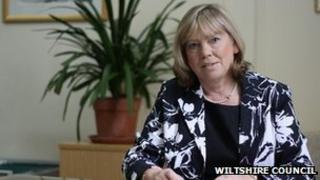 A council leader has been urged by the government minister for communities not to accept a 22% increase in her allowances.
Eric Pickles called Wiltshire Council's Jane Scott an "outstanding leader" but said she should not "take the money".
Ms Scott defended the rise, to £52,000 a year, claiming an independent panel set the "wrong" level when Wiltshire became a unitary authority in 2009.
"At least I am honest, I voted for it and I'm taking it," she said.
"I'm taking it because my group voted for it, as did others from other parties.
"There was an independent group that made very strong evidence that it should be increased because they got it wrong when we went to a unitary, and went from 250 councillors to 98."
'Set an example'
She said she was "taking no notice" of the petition, which was set up calling for her resignation after the increases were agreed.
But Mr Pickles said: "I don't think Jane should stand down - it's a good council. However - and I say this with enormous affection and love - don't take an increase like this.
"There are an awful lot of people out there really struggling and someone in public life has to set an example."
Mrs Scott described Mr Pickles as a "good colleague" and said: "It's politics - I wouldn't have expected him to say anything different."
In November, councillors voted in favour of the increase for the council leader, the deputy leader, cabinet members, portfolio holders, chairmen of committees and area boards.