Police apology over 1998 Dowling domestic abuse case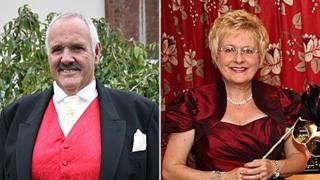 Wiltshire police has apologised after being accused of brushing a domestic abuse case complaint "under the carpet".
The claim was made during an inquest into the deaths of a retired police inspector and his former partner.
Bill Dowling shot Victoria Rose twice in the head before turning the gun on himself in Devizes in March last year.
Mr Dowling's ex-wife Pauline Simmons said she told police in 1998 that he abused her but her claim was dismissed.
Mrs Simmons said police officers sided with Mr Dowling at the time, and claimed the case was "brushed under the carpet" because it might hurt his career.
Wiltshire Police has apologised to Mrs Simmons and said its approach in 1998 fell "significantly below" what was expected today.
Chief Superintendant Kier Pritchard said local and national processes had since "changed dramatically".
He said: "We are now extremely victim-focussed, and we take reports of domestic abuse really seriously."
He said there was a "different culture" in 1998 and said today officers were "dealt with robustly" for any offence, including domestic abuse.