Car driver injured in Swindon house crash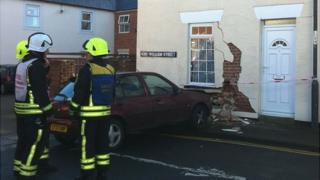 An elderly man was taken to hospital when his car crashed into the front of a house in Swindon.
Police said there had been "significant damage" to the house in King William Street, in the Old Town area.
A Wiltshire Police spokesman said no one was in the house at the time and structural engineers had been called to look at the building.
He appealed for any witnesses to the crash, which happened just before 11:00 GMT, to contact them.
Jun Longalong, 40, who works nearby, gave the victim first aid to a head wound.
"He was fully conscious when I got there but he was very confused and didn't even remember what happened," she said.