All Cannings 'Neolithic' barrow construction work begins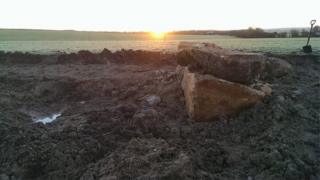 The first stones have been set in place in the building of a new working "Neolithic" burial mound.
The long barrow at All Cannings near Devizes, Wiltshire, will hold "niches", housing urns of cremated ashes, and is due to be completed by the summer.
Local sarsen boulders, similar to those used at nearby Stonehenge and each weighing up to a tonne, are being used.
Developer Tim Daw said it was "unbelievable" his "dream was finally taking shape".
The barrow will be aligned so that the sunrise of the winter solstice shines through the entrance and down the length of its passageway.
The interior will feature dry stone walls made of Cotswold stone, and a corbelled roof.
It will be split into seven chambers, which will contain a total of about 300 niches.
Each niche will have room for between six and eight urns and will be sealed with a lockable door.
Mr Daw said several people have already expressed an interest in paying for a "family niche", at the cost of £1,000 each.
He added that it was "lucky" that local planners had deemed the barrow to be a "structure" rather than a "building", otherwise a fire escape would have had to be included.
The ancient tradition of burying the remains of the dead within earth mounds dates to the early Neolithic period.
A number of ancient burial mounds exist near the new site, including West Kennet Long Barrow, which is one of the best preserved in the UK.