Wiltshire's Wardour Hoard preserved before display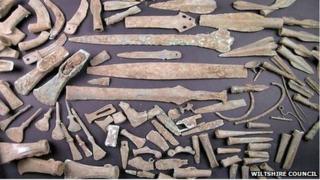 Preservation work on a collection of Bronze Age copper objects is to be demonstrated at a Wiltshire museum.
The Wardour Hoard, which includes more than 100 objects such as spear heads and pieces of sword, is being prepared for public display later this year.
The collection was discovered in 2011 at Wardour, near Tisbury in Wiltshire.
It has been dated back to between 2000 and 800BC and described as "one of the most important Bronze Age/early Iron Age hoards found in the country".
'Amazing find'
From Tuesday, Wiltshire Council's conservation service and Salisbury and South Wiltshire Museum will be showing the clean-up operation under way.
Stuart Wheeler, from the authority, said: "This is an amazing find and illustrates just how important Wiltshire is in terms of archaeology.
"The objects and the preservation process is fascinating and people will be able to see how the objects are cleaned to remove burial soil with a variety of tools to help reveal the original surface."
The museum's director, Adrian Green, added the historic date range was so great because the hoard includes objects that were more than 1,000 years old when buried.