Tom Edwards death: Family complain about police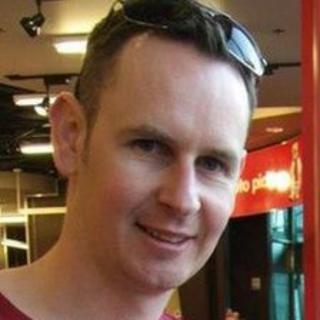 The family of a missing man, whose body was later found by the side of a railway line, have lodged a complaint about the police.
Tom Edwards, 32, from Calne, Wiltshire, disappeared after a night out in Swindon in June. At one stage he was taken to a bus stop by officers.
His body was found after a five-day search by friends, family and police.
Wiltshire Police said a complaint had been referred to the Independent Police Complaints Commission (IPCC).
CCTV footage from Swindon railway station showed Mr Edwards boarding the 23:21 BST train to Bristol Temple Meads on 28 June following an evening at a bar.
'There was problem'
Earlier he had been taken to a bus stop outside the Swindon Designer Outlet Village by officers who saw him walking on Church Place.
His body was discovered near the Chippenham to Bath Spa railway line on 3 July.
Mr Edwards' brother Will Richards said the family were broadly happy with police action, but "frustrated" with the way they initially investigated his disappearance.
"We'd said all along, we knew there was a problem. We knew he was in trouble. It was so unlike Tom [to have gone missing].
"There was probably a first 12-hour window where we were doing a lot of work off our own back, trying to get some help to find out where he could be and what could have happened to him," he said.
Mr Edwards' widow, Dee Edwards, said she was finding it difficult to come to terms with his death: "It gets worse, it doesn't get better. They say time is a healer. I wouldn't say that."
Following an investigation into the death, Wiltshire Police carried out a review into the way the case was handled.
'Areas of improvement'
They made a mandatory referral to the IPCC, because the death occurred after Mr Edwards had had contact with the police.
The IPCC recommended Wiltshire Police carry out an investigation into the way the disappearance was dealt with.
Det Ch Sup Kier Pritchard said: "The subsequent report has outlined some areas of improvement which Wiltshire Police will take on board and will ensure any learning is incorporated appropriately.
"We can also confirm that a complaint was received by Wiltshire Police from a member of Mr Edwards' family.
"This complaint referred to the police contact before he went missing and the action during the search for Mr Edwards. This complaint was also referred to the IPCC."
A police spokesman said a subsequent local investigation was still on-going and it would be "inappropriate" to comment further.