Swindon's new £15m car park opens to public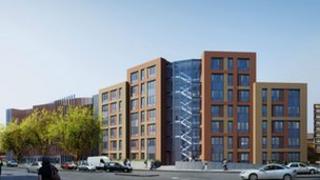 A new £15m multi-storey car park in Swindon, which will replace four others in the town centre, has opened to the public.
The 850-space facility is located on the Kimmerfields development at the site of the former central police station.
It will replace the Carlton, Cheltenham Street, Queenstown and Wyvern car parks which are all due to close in 2014.
The council hopes it will attract more shoppers and businesses to the town.
The car park has 51 security cameras, a membership system and space indicators on each floor, which tell drivers if a particular floor is full before they reach it.