Coffin protest over Stonehenge traffic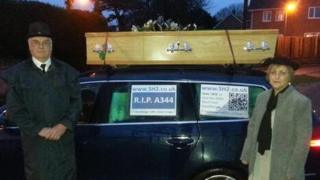 A coffin mounted on a car has been driven around parts of south Wiltshire in protest at problems stemming from the closure of a road near Stonehenge.
Residents say the closure of the A344 in June has led to motorists using surrounding villages as rat-runs to avoid congestion on the A303.
They are using the coffin to illustrate their claims that lives are in danger.
The government says it will look at the issue as part of a wider response to the country's traffic hot spots.
The A344 was closed to "restore the dignity" of Stonehenge, leaving the A303 as the only A-road past the ancient monument.
Campaigner Janice Hassett, a member of the Stonehenge Traffic Action Group (STAG), said: "We had to let people know that we are upset at the closure of the A344 and we felt it needed to be sent off properly.
"We've always had a problem in the villages with holiday traffic but it has absolutely got out of hand now."
Another campaigner, Justin Heath, said the coffin represented the "untimely closure" of the A344, which was shut as part of the £27m project to open a visitors centre at Stonehenge.
A Department for Transport spokesman said the Spending Review in June included a commitment to conduct a study on the A303/A358/A30 corridor.