Salisbury Crematorium: Compensation after roses eaten by deer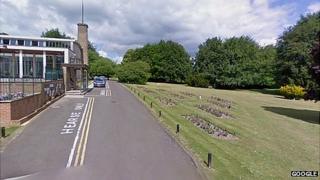 Mourners are to be offered compensation after hundreds of roses at a Wiltshire crematorium were eaten by deer.
More than 700 roses were bought by bereaved families between 2001 and 2011 and planted in a memorial garden at Salisbury Crematorium.
But according to the council the plants have been "severely and permanently damaged" by deer.
Councillors have now agreed to a compensation scheme, which could cost the authority up to £8,500.
The memorial roses had been available as part of a 10-year agreement but that was stopped two years ago as the plants could not be protected from deer damage.
Last February, the decision was made not to cull or relocate the animals.
'Keen on roses'
Since then the animals have continued to eat the remaining memorial roses in the crematorium grounds, as well as flowers left on graves in the cemetery.
"They are particularly keen on roses," said Reg Williams, from Salisbury City Council.
"It's several hundred plants that have been eaten, to the point that they're barely recognisable.
"We have all the records of the people who purchased through the rose memorial scheme and will be writing to them and hoping they will be happy with the level of compensation."
As part of the compensation scheme, those affected are being offered a free entry in the book of remembrance as well as discounts on memorial plaques.