New £27m Stonehenge visitor centre to open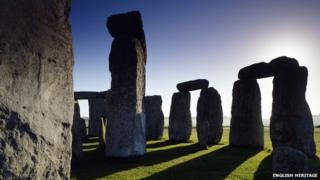 A new visitor centre at Stonehenge, built to "restore the dignity" of the monument, is to be opened on Wednesday, English Heritage has announced.
The £27m project has also closed the A344 next to the stones - an idea originally suggested in 1927.
Visitors will be transported about a mile-and-a-half (2km) from the venue to the stones via shuttle bus.
The new centre will feature an exhibition of 250 prehistoric objects - many previously unseen.
Simon Thurley, chief executive of English Heritage, said it was the "end of an incredibly long journey".
"Stonehenge is almost certainly the most famous ancient monument in the world and up until now it hasn't really had adequate visitor facilities," he added.
"There's been no exhibition, no opportunities for people to even have a cup of tea.
"This is a radical change for the million people a year who come to Stonehenge.
"They can see the stones for the first time free from the clutter and rubbish that have accrued around them since the 1960s.
"We now have something that I think is worthy of one of the world's greatest archaeological sites."
Stonehenge, built between 3,000 BC and 1,600 BC, is thought to have been used for a variety of religious ceremonies.
Plans to close the nearby A344 were originally announced in 1927, but it was not until June that it finally closed. The road has now been grassed over.
One of the highlights of the new exhibition is a forensic reconstruction of an early Neolithic man, based on a 5,500-year-old skeleton buried in a long barrow burial site near Stonehenge.
Also on display will be two rare 14th Century manuscripts, including some of the earliest drawings of the monument, Roman coins and jewellery, and early surveying equipment.
Culture Secretary Maria Miller said: "Stonehenge is one of the UK's most iconic sites, undeniably worthy of its Unesco world heritage status, attracting one million tourists every year from the UK and all over the world.
"So it's only right that, after decades of indecision, we can now offer them a visitor exhibition centre and experience they deserve."
More than a million people visit the site each year. About two thirds of them come from overseas.
The Avenue, Stonehenge's ancient processional approach, has now been reconnected to the monument, and the landscape around the stones has been improved, with the road running past the Heel Stone closed and tall fences removed.
Work to decommission the existing outdated 1960s visitor centre and grass over a car park, will begin next month.