Chippenham town crier chosen after 'Christmas cry'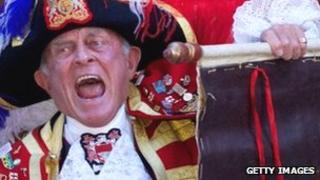 A "long overdue" search for a town crier in a Wiltshire town has ended after a Christmas "cry-off".
Dennis Phillips landed the job by out-shouting a female competitor during a three-minute test announcement of Chippenham's merits.
Mayor Sylvia Gibson, who had lobbied for the role, said it was "a very historical day" for Chippenham.
Volunteer Mr Phillips will not receive a wage from the council but he will get a £200 payment for his services.
'Shouting about Chippenham'
Mrs Gibson said the town's new crier would begin his duties "almost immediately" but his first major performance would be at the mayor's ball in March.
"My aim was that we needed to do something to raise the town's profile, and this was one thing we could try," she said.
"Dennis is going to be shouting about Chippenham all the time, and people are going to get to know us."
The concept of a town crier has existed for thousands of years but the role, to verbally deliver news and instructions to a population, was officially recognised in the early Middle Ages around the time of William the Conqueror.