Wiltshire Council Jane Scott leader defends 22% pay increase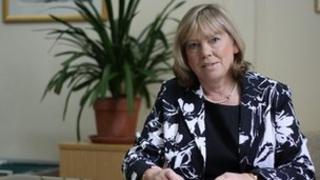 The leader of Wiltshire Council has said a 22% increase in her allowances to £52,000 is "not for me", but those who "come after me".
Jane Scott said the decision to approve the raise was "only right for the good running of the council".
After the increases were agreed, a petition was started calling on Mrs Scott and the cabinet to resign.
Paul Gaunt from Broughton Gifford, who set up the petition, said he was "astounded" by the increase.
He said: "I feel that this is a step too far when we are in times of austerity."
'So little' pay
In November, councillors voted in favour of the increase for the council leader, the deputy leader, cabinet members, portfolio holders, chairmen of committees and area boards.
Mrs Scott claimed she has had received "enormous support" for the increase from people who were shocked she was doing the job "for so little".
She said the independent panel which decided the salary budget felt the amount set in 2009, when the previous district councils became a unitary authority, was at "the wrong level".
She said: "The amount of money that is spent by Wiltshire Council on the councillors they believe is incorrect, and I think it is only right for the good running of the council that they want to make it right.
"Not for me, but the people who might come after me. The important thing for me is not me, it's the post."