Westbury-to-Swindon improved train operation in service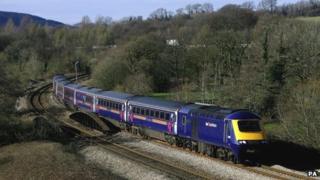 An expanded train service between Westbury and Swindon has gone into operation.
Train operator First Great Western is running an additional six trains in each direction as part of a partnership with Wiltshire Council.
The subsidised Trans Wilts Rail Service forms part of the authority's Local Sustainable Transport Fund project.
The scheme is funded via a Department for Transport (DfT) grant of £4.25m, supporting the service for three years.
The plan also includes an additional four trains on Sundays throughout the year, with at least one service over Christmas connecting with the existing Westbury-Weymouth service in each direction.
Councillor John Thomson, deputy leader, said the expanded service would bring "real social and economic benefits" to the people of Wiltshire.
But he said it was "important local people use and support the service to ensure it is viable into the future".