Wiltshire's new homes target increased by 7,000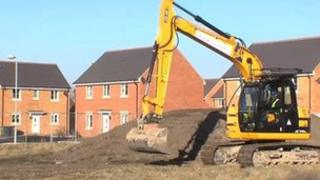 The projected number of new homes required for Wiltshire is about 7,000 short of what is needed according to the government.
Wiltshire Council planned for 37,000 new homes to be built by 2026.
But the Planning Inspectorate, the government department responsible for infrastructure, has said the figure should be revised to 44,000.
Network Against Wiltshire Sprawl (NAWS) claimed the previous target was too high and the homes were not needed.
The council's core strategy is designed to tackle the county's predicted population rise and societal changes over the next 15 years.
'Desecrate green spaces'
Conservative councillor Toby Sturgis, who leads on planning at Wiltshire Council, said some areas want more housing to "make their communities more viable".
"The main strategic centres are obviously Salisbury, Trowbridge and Chippenham," he said.
"But some of the market towns realise that if they're going to get what they want - improved infrastructure - they do have to have some more housing to pay for it."
But Ken McCall, secretary of NAWS, said the new target was "pretty devastating".
"Our researches have looked into these figures and even the 37,000 that Wiltshire [Council] proposed was way too high," he said.
"It does need drastically cutting down because this will desecrate our green spaces."