Rapist jailed again for attacking Swindon teenager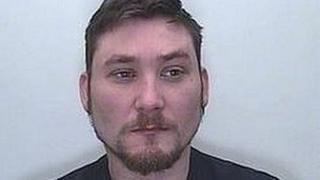 A man who raped a teenager months after being released from prison for an identical attack has been given a life sentence.
David Andrew Brierley, 34, attacked the 18-year-old woman in Swindon in February, the town's crown court heard.
He had been jailed in 2001 for eight years for repeatedly raping an 18-year-old woman in Stratford-upon-Avon the previous year.
Brierley was told he would serve a minimum sentence of seven years.
The court heard he had been released from prison in October 2012 after being recalled for breaching his licence.
'I begged him'
He met the teenager in a takeaway in Swindon, the court was told.
The following evening they met up in the town centre.
Brierley took her to an area behind some bins near John Street where he subjected her to a 45-minute ordeal.
His victim told police afterwards: "I begged him, God knows how many times, and he wouldn't let me go. I kept thinking I would die that night."
Brierley pleaded guilty to two offences of rape at an earlier hearing. Further charges of rape and criminal damage were ordered to lie on file.
Passing sentence, Judge Douglas Field said: "I have come to the view that you are a very dangerous, violent sex offender.
"This was a violent incident and the physical and mental harm you have done to this woman must be profound and long-lasting."