Swindon Christmas homeless shelter gets help after turkey appeal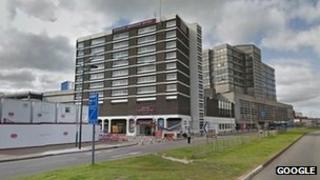 A temporary homeless shelter in Swindon which was facing a turkey crisis due to the sudden closure of a hotel will now get help with Christmas dinner.
The shelter needed help to cook 12 birds after the town's Menzies Hotel, which did the job for years, shut.
The meat is used in a turkey dinner for some 70 people as part of the town's Christmas Care campaign.
But after an appeal on BBC Wiltshire, the Blunsdon House Hotel has stepped in to offer its services.
Patsy Moloney, chair of the campaign, said: "For the past eight or nine years, the Menzies Hotel has been cooking the turkeys for us, but it was a shock [when it closed].
"But I knew with the the help of the BBC we would get help."
Christmas saved
Another group which stood to lose out was the Swindon and district branch of the Parkinson's UK charity, which had booked a Christmas lunch at the hotel for more than 100 people.
Swindon Town Football Club has now stepped in and offered the group the use of their venue.
Vice chair Dave Logan said the situation had been "very worrying" as "for some, this is their big outing of the year".
On Friday, it was announced the Menzies Hotel was one of three to close as its parent group had been sold off.
The future of 12 further hotels has been secured as the group, based in Derbyshire, has been sold to Topland Group.
But some 155 jobs have been lost with the closure of the Swindon hotel and two others in Gatwick and Luton.