Swindon Christmas homeless shelter in turkey appeal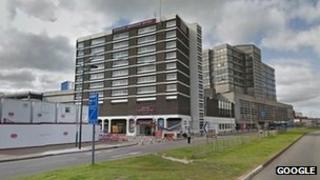 A temporary Christmas homeless shelter in Swindon is searching for help to cook 12 turkeys because the hotel which has done the job for years has shut.
The meat is used in a turkey dinner for some 70 people as part of the town's Christmas Care campaign.
For the last seven years, the cooking and carving has been provided free of charge by the town's Menzies Hotel.
But on Friday, it was announced the hotel was one of three to be closed as its parent group had been sold off.
'Bad news'
Patsy Moloney, chair of the campaign, said: "It's bad news because that hotel was fantastic to us for the past seven years.
"The presentation of food they gave us, after being cooked and carved, was fantastic."
Another group to lose out is the Swindon and district branch of the Parkinson's UK charity, which had booked a Christmas lunch at the hotel for over 100 members.
Vice chair Dave Logan, said: "It means we've lost £1,000 and for a charity that's a big lump of money."
The future of 12 hotels has been secured as the Menzies Hotel group, based in Derbyshire, has been sold to Topland Group.
But, some 155 jobs have been lost with the closure of the Swindon hotel and two others in Gatwick and Luton.